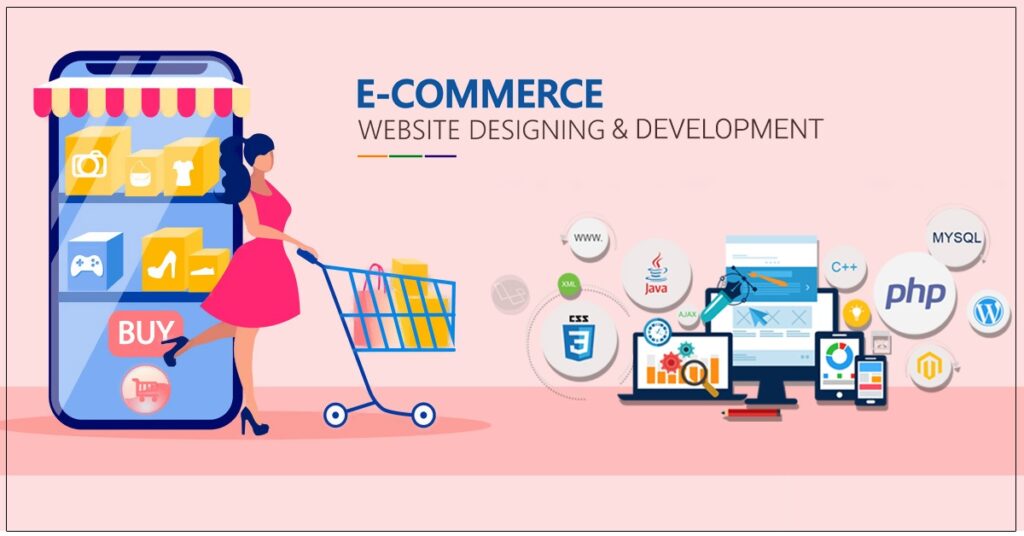 Ecommerce Website Development
Creating a web experience that shoppers are eager to repeat!
At Klbs Softech we combine a beautiful frontend design, simple navigation and checkout process, fast loading pages to deliver a great shopping experience. Get ready for an Ecommerce website and app that deliver substantially higher conversion rates.
We have expertise in creating customized eCommerce store, single brand stores, multi-vendor marketplace, and b2b online store for all industries. Our skilled web developers are proficient in Integration with 3rd party services such as Accounting, Payment Gateway etc.
We are keen in helping you to serve your customers better with must have e-commerce features.
Showcase your products beautifully
We make your site the best ecommerce website on the internet, enhancing your brand and digital presence while giving your customers an easy way to access the products they need. No matter your industry, our team has the web development experience to build sites that engage your customers.
Tell us your business goals, and our user experience experts, developers, and writers will optimize your site for conversions. We leverage design psychology to create a sense of urgency that encourages your visitors to take action—and become customers.
Whether you're looking to optimize your current site or you need our website designing services to build a new one from scratch, our development team will help you move in the right direction.
First, we will understand your industry, your products and your target audience.
Then we will be strategizing to create journeys to maximize conversions and your profits.
Our Ecommerce website development caters to multi-disciplinary requirements of performance, security, scalability and usability.
Our Ecommerce Web Development Services
Customization for Distinctive Requirements
Trust us to understand the distinctive requirements of your industry and audience. In-depth researching and careful strategizing is what you can expect for every aspect of the perfect retail architecture for your Ecommerce website.
Scalable Solutions
As the number of online shopping grows so will the need of your website to meet the expectations. Future expansion is what we foresee and plan for. Our scalable web development solutions ensure there are no obstacles in your users' experiences even when the number of visitors keeps soaring.
Development Platforms
We can help develop websites on all popular platforms such as Magento, WooCommerce & Joomla, to name a few. We have the capability to integrate the same with our Ecommerce hosting services and create the most fantastic user experiences, leaving your competition far behind.
Shopping Cart Effectiveness
You can depend on us to deliver the perfect shopping cart solutions centering on your business needs. Your industry product cycle will act as a guide and motivate us to create the shortest click-to-buy journeys possible.
Secure Payment Getaway
We develop ecommerce websites that easily integrate with all popular payment getaways and mobile wallets to enhance both trust and convenience. We can also integrate third party solutions for secure transactions, without affecting your Ecommerce website design.
Search Engine Friendliness
Our experienced developers will focus on what matters the most – getting your site indexed easily and quickly on search engines. With simple, clean coding, you can be assured of expanding your reach to all popular search engines.
Responsive Site for Shopping
With users' devices ranging from mobiles to laptops to tablets, you need a site that matches screen size and resolution limitations. We understand these frameworks better than anybody else and will help develop an ecommerce website compatible and responsive to all different devices.
Admin Panel Management
Take control of your product line with an easy-to-use and simple-to-implement admin panel. Let your business needs dictate the urgency of adding/deleting products, changing prices or any other information without wasting any time whatsoever.